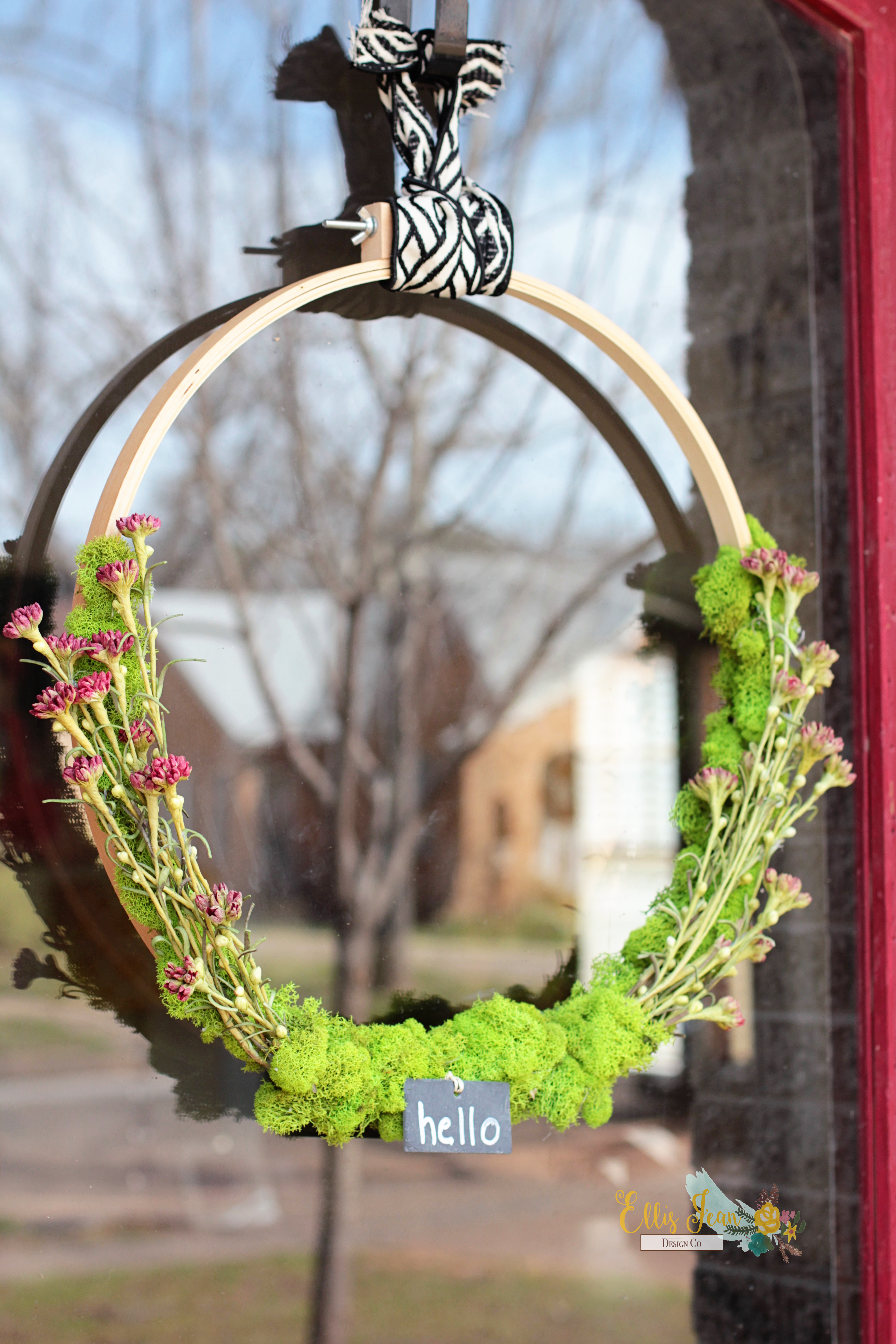 Hey, friends! I'm back today with an easy spring wreath tutorial. You'll have to forgive the terrible photos of the tutorial part – I decided at the last minute to make this a tutorial, I'd already lost too much natural light…then I had to come back later and finish it and forgot to photograph the last part. Goodness. Anyway, at least I'm sharing, right? 🙂
Your supplies for this are pictured below:
1 – Embroidery Hoop (this is a large one)
2 – A medium-sized package of moss
3 – Flowers of your choice
4 – Hot glue gun/glue
5 – Scissors or wire cutter, depending on what you need to take the stems from your flowers.
6 – Ribbon of your choice for hanging
7 – Optional chalkboard embellishment (not pictured here)
Begin by placing glue on the hoop and adding moss. I worked in small increments to keep the glue from drying before I got to it. Just pat the moss down as I'm doing in the picture.
Work your way about half way up (or a little more) on both sides of the hoop, gluing the moss down.
This is where my tutorial pictures run out. Blame it on being busy and having two four-year-olds. Even though they weren't home at the time. We'll still blame it on them. Poor kids. 😀
Your next steps will be to glue down your flowers on top of the moss. If you choose stems of flowers like I did, you'll want to cover up the very ends that are left of them with moss. Next, I wrote on the chalkboard, then tied it around the moss and hoop. Last, you'll add your ribbon at the top for hanging! So easy and quick!
What do y'all think? I was going for a little of the "less is more" vibe on this one. Anyway, it's staying put for a couple months till I get tired of it and decide to make something different. Or who knows? It may be on the door till next Christmas! 🙂
I hope you've all had a wonderful week and do something fun this weekend!
much love-
Kassie