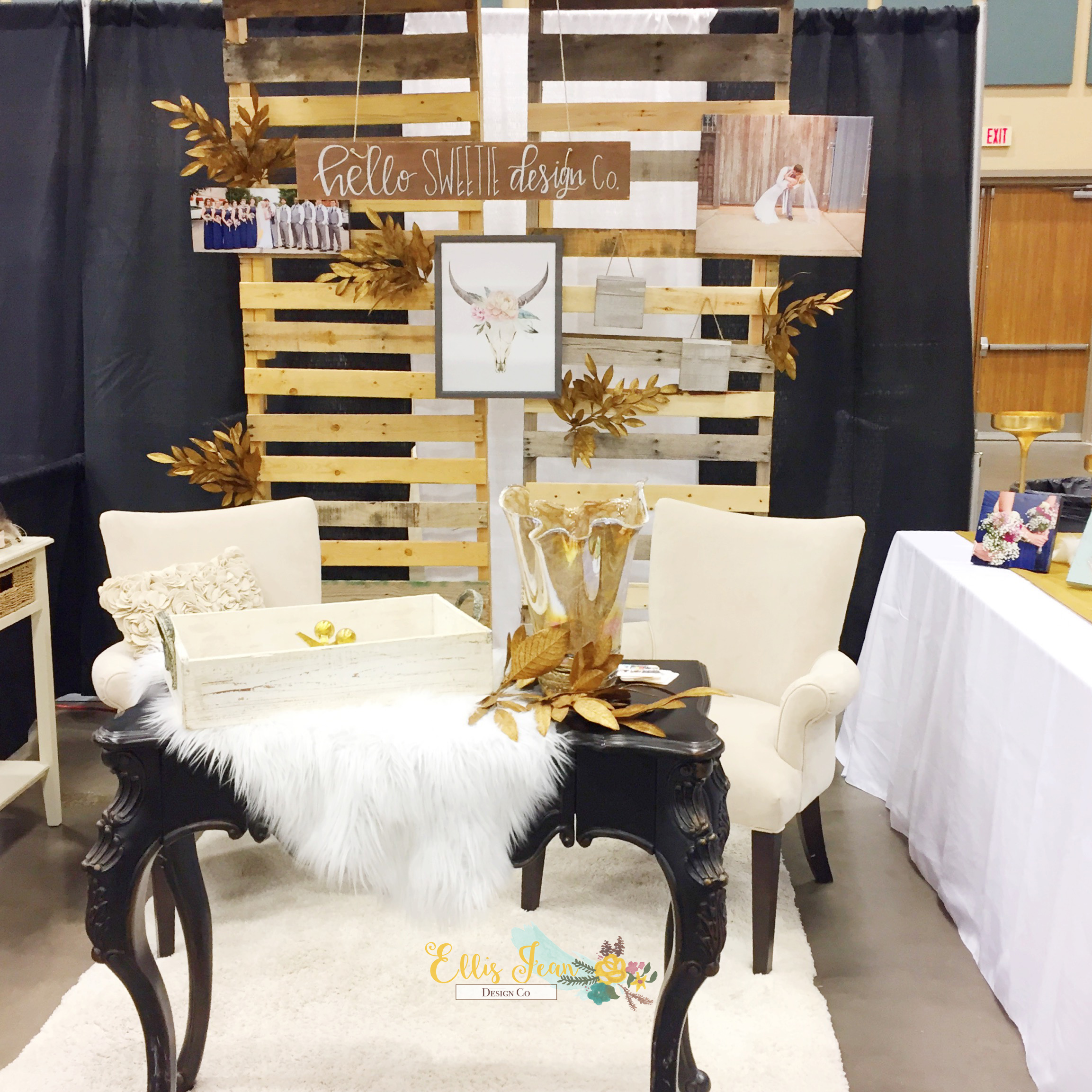 I had the opportunity to style a booth last weekend at the annual KFDX Bridal Market in Wichita Falls, for Rebecca at RCain Photography & Hello Sweetie Design Co. Last year, I styled the booth for Butterstick Bakery and Castle Events. You can check that post out here.
It was fun to be back…It somehow doesn't feel like work because I truly enjoy it. I thought I'd share a few photos with you, even though I only had my iPhone with me. Rebecca had spoken with me about the look she wanted, so I scoured my attic (which is a mess and resembles a thrift store) and managed to nail the look she was aiming for.
I knew what I wanted to use, but wasn't sure it would all fit in her 10×10 booth, so I did a little space planning. I did this using a free app on my phone. I don't have any fancy software yet, but this got the job done (there were no wood pallets in their furniture options either, which is what we were using for a backdrop, so I used bookshelves in place of those). 🙂
*This post may contain affiliate links for your shopping convenience, at no extra cost to you. Thank you for supporting Ellis Jean Design Co. 
After I knew what would work, I loaded up my SUV the next morning in FREEZING weather and it had just started snowing. OF COURSE. The one day I have to be loading furniture by myself into a vehicle…. I think the wind chill was around 3°F. For central north Texas, that's cold, y'all! Anyway, I got there and luckily, there's a large garage to pull into for unloading and we had some help!
These pictures were taken before most of Rebecca's product was added and I didn't go back the next day. Shopping in Dallas was calling my name. 😉 The plan was to also add fresh pink petite roses in that gold vase, and the stands on the table to the right, but she didn't have time to stop and get them the morning of the market. Oops.
Rebecca's husband made the wood pallet backdrops.
My niece gave me the Tiffany & Co. box because she thought I might be able to use it sometime, and it was perfect for the giveaway Rebecca was doing! She gave away cookies from Butterstick Bakery that were added to that cake stand.
My little "for like ever" cake topper turned out to be perfect for this event, too! It's amazing what you find in your own home when you start trying to pull something like this together!
It's always fun to do some styling and see the end results! I hope to do more in the future and I'm really excited to have enrolled last week in interior design school! It's not something I think you HAVE to do in order to be good at styling or decorating, but I believe it will help me. And learning of any sort is always a good thing!
I hope you all have a happy Friday!
til the next time,
Kassie